Click
here
for a short documentary about a transformative experience in Greenland. All citizens of the world should visit the arctic region at least once...
---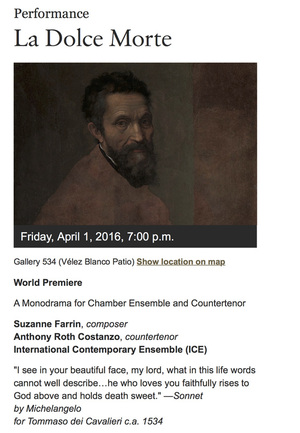 dolce la morte
at the
Metropolitan Museum of Art, April 1 and 2, 2016
at the Vélez Blanco Patio
for Anthony Roth Costanzo and the International Contemporary Ensemble
oboe, bassoon, counter tenor, harp, violin, viola, cello and double bass
The main subject of the work is the intense physical and spiritual attraction that Michelangelo felt for the younger Tommaso de' Cavalieri. Though the details of their relationship are unknown, what remains is a large collection of love poetry from Michelangelo to Tommaso as well as the "presentation drawings" that he exchanged with the younger man. The drawings, which mostly representations of Greek mythologies, provide additional insight into his attraction and complex feelings toward Tommaso. They include
The Fall of Phaeton, Ganymede
and
il Sogno
. Like the drawings, the poetry expresses his intense, corporal language.
Tu m'entrasi per gli occhi, ond'io mi spargo, come grappol d'agresto in un'ampolla, che doppo 'l collo cresce ov'è più largo; così l'immagin tua, che fuor m'immolla, dentro per gli occhi cresce, ond'io mallargo come pelle ove gonfia la midolla; entrando in me pero sì stretto vïaggio, che tu mai n'esca ardir creder non aggio.
You entered me through my eyes (which make me dissolve in tears) as a bunch of unripe grapes goes into a bottle, spreading out below the neck where the phial is wider; your image (which outside makes me wet with tears) does likewise: after passing through my eyes it spreads out, so that I expand like skin that is swollen by fat; since you entered me by such a narrow passage, I cannot dare to believe that you will ever come out.
These poems remind me of the
Prisoner Statues
, which are all on display around the
David
at the Accademia di Belle Arti in Florence. There is great motion and strength in these bodies that were left unfinished, or "imprisoned" in the stone. They are both restrained and unbound: they speak out with arms and legs that emerge from the rough surface, muscles strain and reach, words try to order themselves into speech to expresses the overwhelming impetus of physical love.
---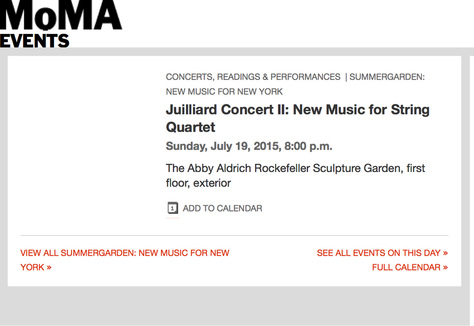 My string quartet,
Undecim
(2007), to be performed at MoMa on July 19, 2015
http://www.moma.org/explore/inside_out/author/joel-sachs
Undecim
was written in 2007 during a time when I was thinking about how memory could be applied as a process in my music, especially when considering the long lifespan of stringed instruments. I liked to imagine that these objects remember all of the repertoire from the past and—like an active memory—the bow could temporarily take over the arm of the player and utter articulations of older pieces while left hand stays in the present. It is as if the bow and arm become marionettes that are controlled by remembering. Memories are partial, incomplete and fragmented. They can intrude into "normal" thinking and change, forget and twist around temporality in a constantly changing psychological landscape that effects both the present and its sense of self: re-hearing, forgetting, trying to hold on to something that cannot continue to exist without the aura of its moment of creation.
In keeping with MoMA's history of presenting jazz and classical music in the Sculpture Garden, this year's concert series once again welcomes the participation of The Juilliard School and Jazz at Lincoln Center. Titled New Music for New York, the series comprises four evenings of adventurous contemporary music, with premieres each night. Juilliard concerts are performed by members of The New Juilliard Ensemble, under the artistic direction of Joel Sachs, who has assembled two distinctive programs of recent compositions, all of which are enjoying their New York premieres. Jazz at Lincoln Center has selected two up-and-coming jazz ensembles whose concerts emphasize original works, each with one world premiere.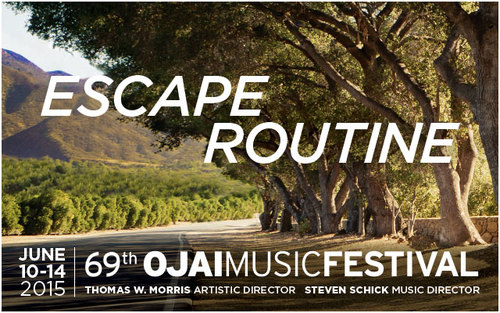 Polvere et ombra
, performed by Nuiko Wadden, at the Ojai Festival on Friday, June 12th at 4 pm
http://www.ojaifestival.org/suzanne-farrin/
polvere et ombra.
There are at least two physical bodies at work in every piece of instrumental music. One is the hard, tense and drawn body of the instrument itself. Its form is determined by the collective hands that mold a sound over centuries. The instrument is passed, changed and somehow remembers its ancestry. The second body is that of the performer who is a magician over the otherwise silent object.
The physicality of both bodies is a dramatic relationship that I find to be a rich source.
Polvere et ombra
magnifies the physical relationship of the player to the instrument. The arms must move to their fullest range of motion, the fingers grab into the strings and the polite beauty of the harp is replaced by raw action.
The form of the work and the title are derived from Petrarch. Sonnet no. 23 provided the syllabic rhythmical grid for the piece. The poem is an impassioned declamation to a night sky. Number 294 includes the line "Veramente siam noi polvere et ombra" (In truth we are but shadows, only dust).