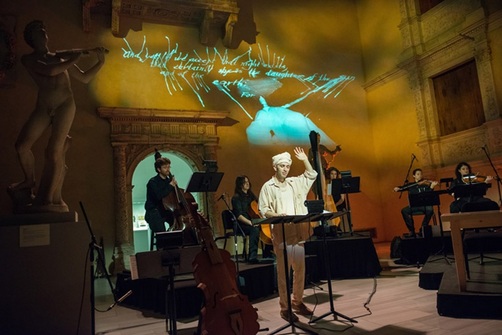 In 1532 Michelangelo met the young Roman nobleman Tommaso de' Cavalieri. Though the details of their relationship are unknown, we know that the meeting inspired the artist to compose intense poetry that deals with the joy and complexity of carnal desire and spiritual fulfilment. The two men also exchanged "presentation" drawings, which were intended to be lessons for Tommaso. Mainly depicting stories from Greek mythology, they include Phaeton, Ganymede and il Sogno.

For me, the visual works that mostly closely express a feeling similar to the love poems are Prisoner Statues, which now beautifully stand before the David at the Accademia di Belle Arti in Florence. These are the unfinished statues who look as though they were abandoned in mid-thought. Each body exists in many different stages of emergence: a perfect arm, a rough leg, a faceless head. There is great motion and strength in these bodies that are "imprisoned" in the stone. They are submerged and unbound: muscles strain and reach like contrapposto between life and non-living.

The love poetry also seems to be in a process. His speech cannot fully contain the overwhelming impetus of physical love, which becomes too much for the sonnets to bear. They stretch and are torn out of shape. He loses his voice and falls silent. My desire was to create the sound-world between creation and being.

Dolce la morte was premiered at the Metropolitan Museum of Art's Velez Blanco Patio on April 1-2, 2016 and performed at the Crested Butte Festival in Crested Butte, CO on August 4, 2016. It was commissioned by the International Contemporary Ensemble and the MET Museum with generous support from Mr. and Mrs. Ronald J. Ulrich, Sarah Billinghurst Solomon, The Cheswatyr Foundation, Constance Old, and The Gladys Krieble Delmas Foundation.

---